NEW

Rug Doctor X3 Professional
Professional carpet deep cleaning at your finger tips
Engineered For A Professional Quality Clean
Increased Dirt And Allergen Extraction Power!
Increased Solution Recovery For Even Quicker Drying!
New Triple Row Brush Action For Increased Agitation!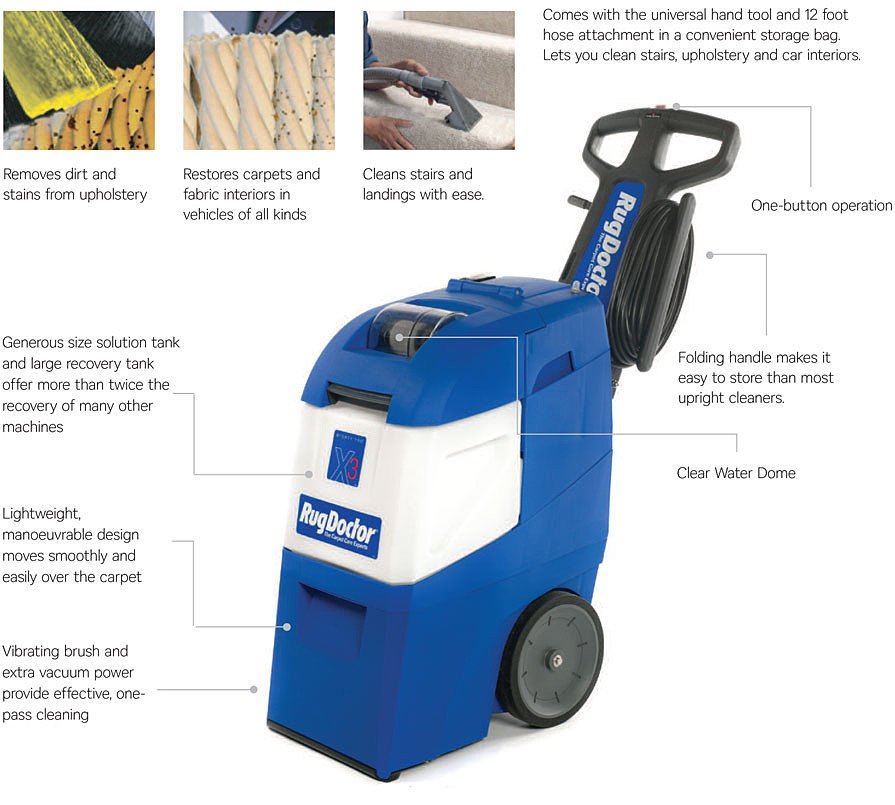 Just
£499.00
(Inc Vat and delivery)
---
Why buy a Rug Doctor X3 Professional?
It pays for itself...
A Rug Doctor X3 Professional eliminates the need for professional carpet cleaning that can cost hundreds of pounds for every visit. It also prolongs the life of your carpet by removing damaging embedded grit that can grind away at carpet fibres if not removed. A Rug Doctor X3 Professional will give you years of reliable service.
Professional grade cleaning without the hassle...
By having a Rug Doctor X3 Professional immediately on hand at home you can deal with stains quickly before they have time to dry and you can plan when to clean your carpets at a time that suits you. The Rug Doctor X3 Professional folds up into a neat easy to-store machine when not being used.
A cleaner home is a healthier home...
A Rug Doctor X3 Professional is a must to provide a healthy home environment for children or grandchildren who always love to play on the carpet. Regularly deep cleaning your carpets can improve indoor air quality. The Rug Doctor hot water extraction process does a superior job of removing bacteria,allergens and dust mites.

Backed by a one year warranty
---
ORDER NOW and receive a FREE Rug Doctor Cleaning Kit worth over £70!
The Rug Doctor Universal Hand Tool
Full 12 month warranty
30-day money back guarantee
- including FREE collection
| | |
| --- | --- |
| 1 x 4 litre Carpet Detergent | £19.99 |
| 1 x 1 litre Pet Formula Carpet Detergent | £12.99 |
| 1 x 1 litre Oxy Power Fabric Cleaner | £12.99 |
| 1 x 500ml Oxy Power Stain Remover | £4.99 |
| 1 x 500ml High Foot Traffic Cleaner | £4.99 |
| 1 x 500ml Odour Remover | £4.99 |
| 2 x 500ml Spot & Stain Remover | £5.98 |
| 1 x 500ml Urine Eliminator | £4.99 |
Total value - Worth over £70.00
---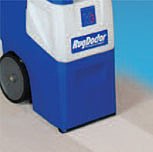 Superior one-pass cleaning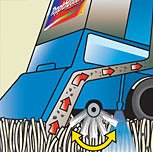 Unique cleaning action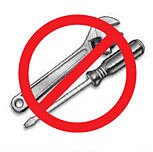 No assembly
needed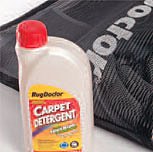 FREE starter
pack

"Love it - the bottom line you pay for quality you get it. Well impressed, it does what it says on the tin. With one pass the amount of dirt it lifts and the drying time is brilliant ...you need to see to believe... would recommend to anyone We looked at the ratings, could they be true? Yes, immediate results on carpet that didn't look that good with other cleaners. Easy to use. Probably the best investment ever, with kids and dogs... we decided it was a good idea to buy our own. Works perfectly, having using a vax before, this beats it by a million miles, pricey yes but definitely worth it, it's amazing the dirt this takes off your carpets, well worth every penny"

---
Specifications
Solution Tank


11.4 litres

Recovery Tank
14.8 litres

Brush Width
25.4cm

Brush Type
Vibrating 2-way

Brush Bristle Length
28mm

No. of passes required


1 pass

Weight
17.7kg

Solution Flow Rate
0.55

Vacuum
229 air watts

Motor
1200 watts