There's lots to think about during the festive season, with everything from food to hosting guests. But what about your pets? Find out how to keep them happy while involving them in the festivities below.
Keeping Your Pets Happy and Healthy
Christmas can be a stressful time for pets, with lots of changes disturbing their daily life and environment. You can minimise the effect on them by keeping their routines, such as feeding times and exercise, as similar as possible. And there's nothing like a winter walk!
Cats might need somewhere to hide if they feel distressed, so making sure they have access to high or undisturbed places in your home is essential. Also, try not to leave your pet alone for long periods, and introduce new guests slowly. Always ensure that outdoor animals have enough bedding, food and unfrozen water. You can read more about keeping pets safe and warm in cold weather here.
What would Christmas Day be without a fantastic dinner? While letting them scrounge is tempting, make sure that your hungry moggy or pooch doesn't get into your feast. While plain, boneless turkey is a tasty treat, things like chocolate and mince pies can make your pets unwell. Why not make them their own festive food to keep them away from the dinner table? If you've got your hands full, you can buy themed treats with flavours like pigs in blankets or turkey and cranberry!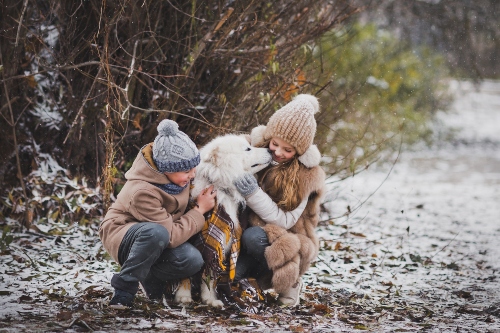 Getting Your Pets Involved
There are plenty more safe ways to involve your pets in the season. You could add a colourful bow to their collar or buy them one that's sporting a festive pattern. A present of a winter blanket is sure to go down well, and treats even better! Including your pet in traditions like Christmas photos is an adorable way to celebrate, and you could buy them their own stockings or advent calendars – these could include anything from toys to pet-friendly treats. There are lots of options when it comes to festive toys too, such as reindeer plushies and Brussel sprout squeaky balls.
Relaxing after eating too much food is an inevitable part of Christmastime, but your animals might have other ideas. You could tire them out with a long walk or play session early in the day, so they can sleep through some of the potentially stressful periods later on.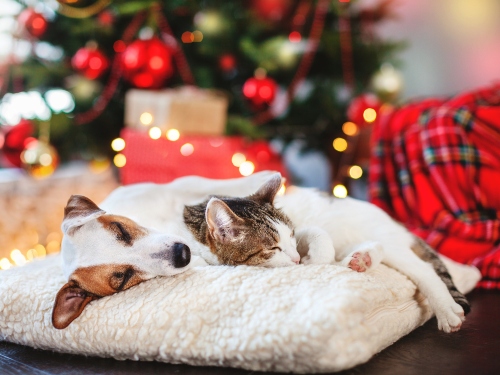 The Christmas Clean-Up
Pets plus the festive season can equal trouble for your carpets. All the wet winter weather might lead to you discovering muddy pawprints or grass stains after a walk. The Rug Doctor Pet Portable Spot Cleaner is the perfect tool for the clean-up. It uses twice the suction power of other comparable cleaners to make light work of removing pet hair, accidents and stains. You can even use it on pet beds and mattresses – especially useful if they've been hiding away during the festivities. Pair our machine with the Pet Formula Carpet Detergent to revitalise your home hassle-free.
If you want a quicker treatment, why not take a look at our handy trigger sprays? Urine Eliminator gets rid of any pet accidents in a flash, and tackles tricky smells too. You could try the Rug Doctor High Foot Traffic Cleaner in busy areas like hallways to remove embedded dirt after a season of winter walks. Our Oxy Power Stain Remover is also great at removing stubborn mud and grass stains.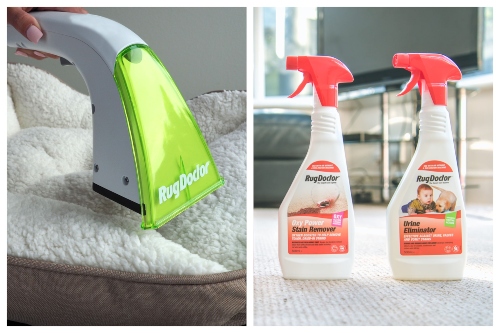 Enjoy quality time with your pets this festive season, and eliminate any stress about cleaning up after them, thanks to Rug Doctor.