There's no better feeling than giving your house a really good clean, finishing it off by hoovering the carpets then sitting back and admiring your hard work. But are you floors and carpets really clean? To the eye maybe, but your floors hold so much dust and dirt that you can't see and just think how much traffic goes over them daily.
Nearly all my carpets are cream and white …. So obviously, I have a no shoe rule and keep on top of them with hoovering. To the eye they appear clean but after I gave them a clean with the Rug Doctor I was absolutely shocked.
I decided to go with the Rug Doctor FlexClean as it's most like a household hoover in design. It's lightweight to use and actually works on both carpets and hard floors. It also has an upholstery function which would be really handy.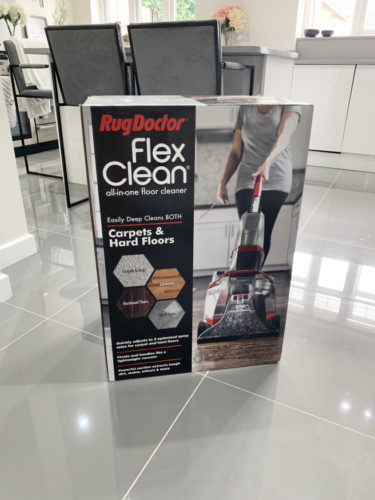 Delivery was really prompt and unboxing the cleaner was really easy.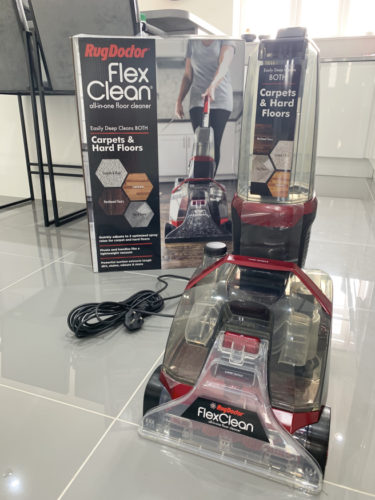 The main unit comes fully assembled in the box, all you need to add is the handle by unscrewing a small screw. You then attachthe handle and tighten the screw. It's got a really long cable and comes with all the necessary attachments, accessories and solutions.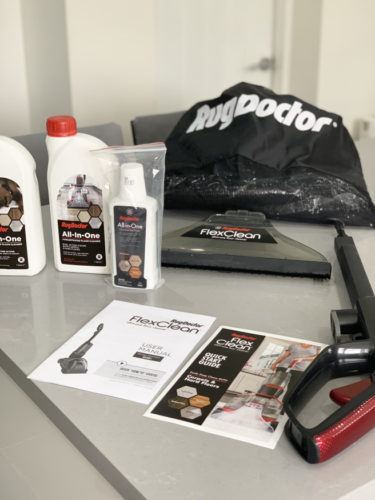 It comes with the main all in one solution for using on carpets and hard floors. There's also A pet solution specially designed for removing pet stains and odours. There is a handy bag for keeping everything in which also houses the upholstery attachments and the hard floor attachment. The instruction manuals are really clear and you have everything you need to get started in no time at all. It's really quick to fill and once it's full you can begin cleaning.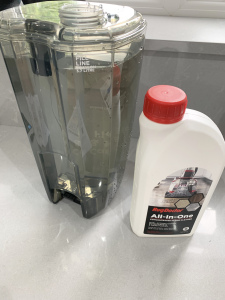 The top tank on the machine comes out with just the click of a button and this is the one you fill with warm tap water. Now, I've tried some other cleaners before and the ratio of water to solution never seems to match up to the size tank. Either that or you have no idea how many litres your tank can hold. This one is really easy to understand. You just fill the tank up to the fill line and on the bottle it tells you how many litres of solution to pour in. That is obviously depending on if you want a deep clean or a medium clean.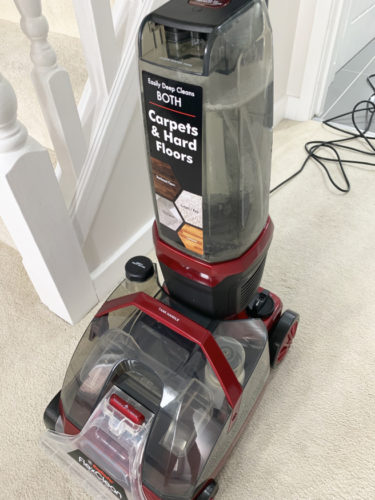 Once it's filled click it back into place and your ready to go. Before you start you select the level of clean that you want from the dials on the bottom. Make sure it's on carpet clean & you're ready to start cleaning.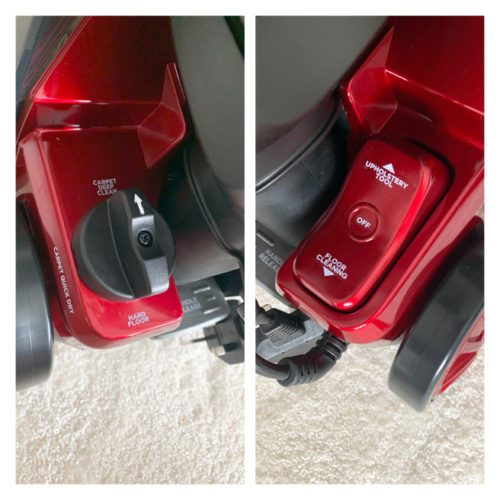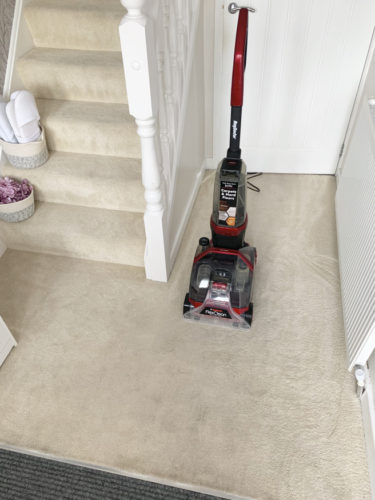 You can see in this photo as it's a high traffic area it does get grubby and I have a strip along where the carpet meets the mat that gets dirty from peoples shoes just creeping over slightly. It's time to give it a good clean and see what results I can get.
Before & after: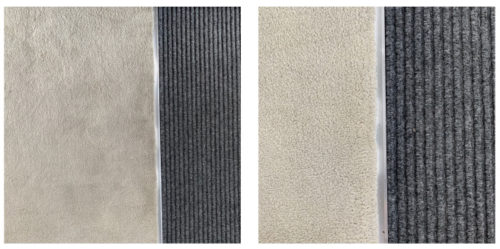 Well to say I was impressed was an understatement! The dark strip was gone and you can just see the colour difference in the carpet. It was looking amazing.
You go forwards & backwards while squirting out the solution then forwards and backwards again without holding the trigger to suck up all the water. You can see the water coming back up into the bottom tank as you do it.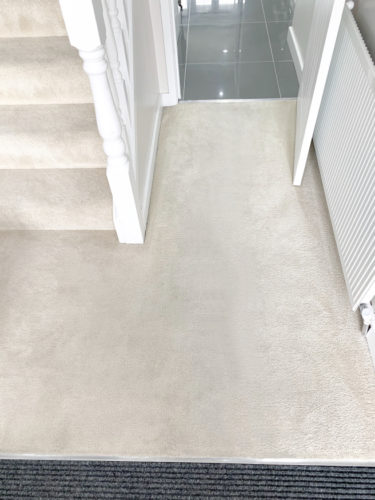 I managed to do the hallway and my bedroom floor with one tank of water.
Some may not see as drastic a difference in colour as my hall carpet as that's a very light colour. The bedroom carpet; to the eye, didn't look different, but as the saying goes 'The proof is in the pudding'.
Well it certainly was for me. I was actually astounded by the COLOUR of the water in the dirty tank. It's disgusting but fantastic to know my carpets really are clean now – not just looking clean.
I know you'll all want to see so I won't disappoint. Here is what was sucked out of the carpets…….
Brace Yourselves!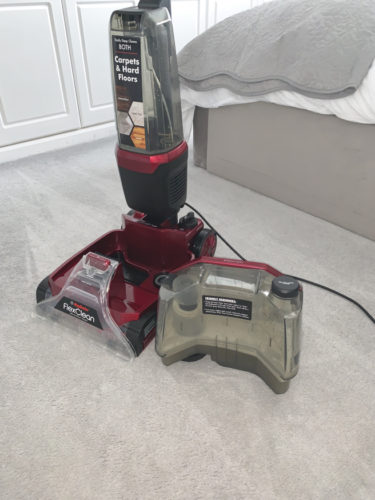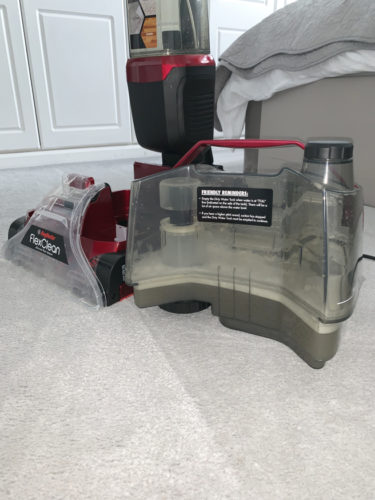 LOOK AT THAT!!! The colour is disgusting. I can't believe my carpets held so much dirt!
Would I recommend the Rug Doctor ?
Yes 10/10
Knowing that you can own your own carpet cleaner to have at home whenever you need to give them a clean is brilliant. If you think of what you'd pay someone to do it for you twice a year, you'd be able to have buy your own machine.
They retail for £299.99
CLICK HERE to shop the FlexClean.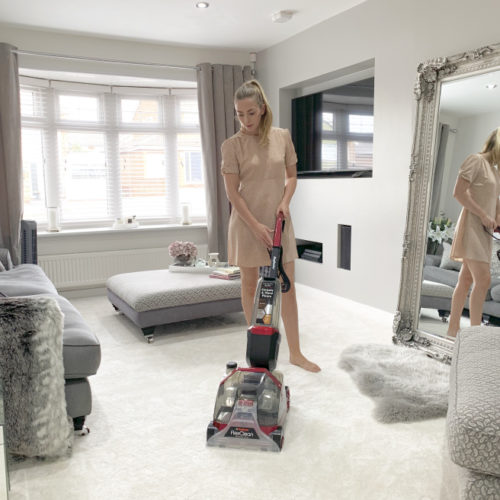 It works really well on my white carpet in the living room too.
I plan to now keep on top of them giving them a good clean every few months to stop as much dirt building up. It's so handy to have your own carpet cleaner at home so why not give The Rug Doctor FlexClean a try?
By Guest Blogger, Danielle (House To Home At Last)