Halloween is fast approaching, and so is the need for party planning. Whether you've left it to the last minute or have been conjuring things up for weeks, take a look at our ideas for some dark inspiration.
Devilish Decorations
Making your home look Halloween -ready is a really fun part of the season and also gets your guests into the party spirit! Why not turn off the lights and bring out some candles? Wrap them in black lace for a gothic effect. Spookify your fairy lights by cutting out some coloured paper cat faces, then use a hole puncher for the eyes, and pop your lights into the holes to make a beautiful cat garland. 
If you want to give someone a fright at dinner time, create easy vampire napkin rings by rolling your napkins, tying them at the centre and placing them inside vampire teeth. Customise drinking glasses with spider web patterns (make sure to use glass-friendly paint!), and add black ribbon or paper bats with googly eyes to the kids' straws. Keep them entertained with a ghost piñata made of balloons and paper mache, and keep the adults happy with individually decorated treat boxes – time to get crafty!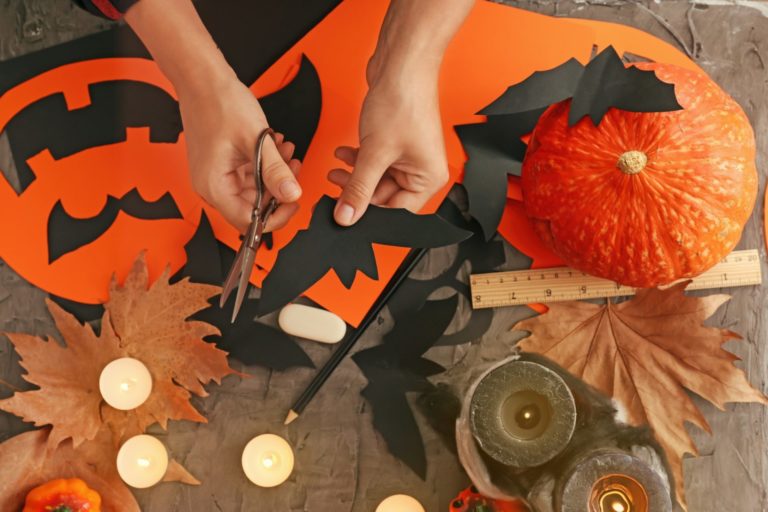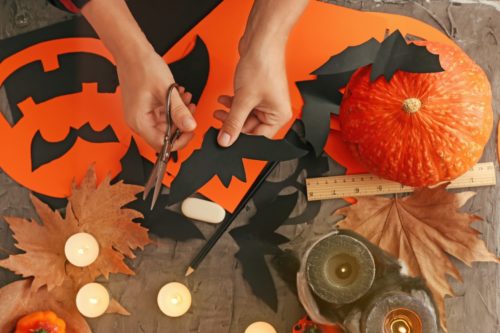 Dig Your Teeth Into These Treats
There's plenty to choose from when it comes to Halloween food. Want to go down the traditional route? Have a stab at witches' fingers with almonds for fingernails, or themed biscuits like ghosts and spiderwebs. The kids will have a great time coming up with their own designs! Or, why not try something a little different, such as these spooky sausage mummies? If you'd like a healthy alternative to all the sweets, these tortilla bats with tomato salsa are a tasty treat.
What would a Halloween party be without some delicious drinks? There are loads of fantastic, non-alcoholic punch recipes out there, as well as cracking cocktails like these Blood Beetroot and Haunting Halloween concoctions.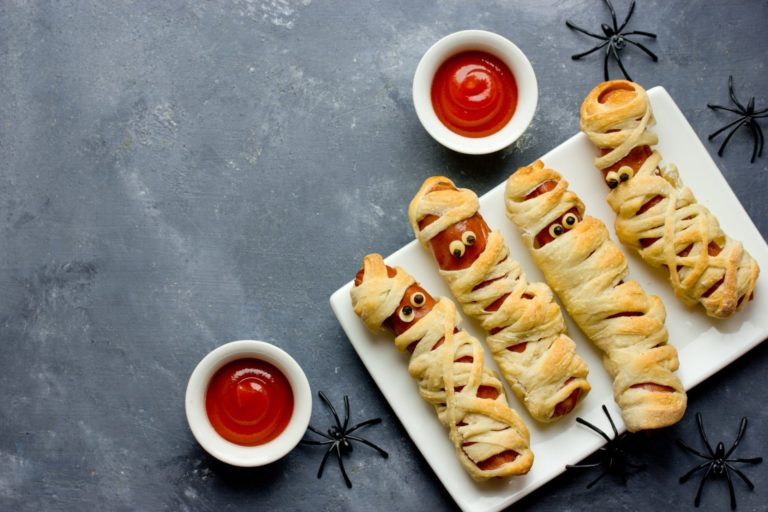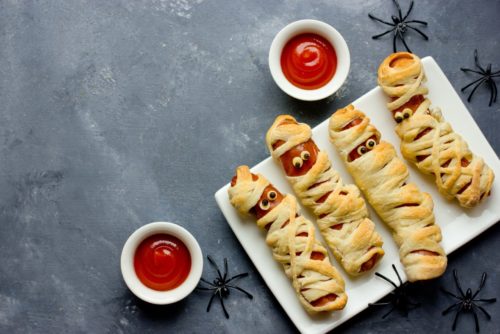 Fiendish Fancy Dress
It can be difficult to know where to start with Halloween party costumes, so they're easily left until the last minute and can become costly! Take a look around the house and you'll be surprised at what you can rustle up. Turn into a creepy doll with an old dress and some hairbows, or become a mummy with a ream of toilet roll. A cardboard box can be the start of a great outfit like a robot, and even a Rubik's cube. Or, you could head to your local charity shop to source some cheap clothes and turn into your favourite book or TV character.
A splash of makeup can work a treat to complete your Halloween look. Fake blood easily adds a fright to a more generic costume, and it doesn't cost an arm or a leg. Use existing makeup such as liquid eyeliner to become a cat or a scarecrow. White face paint does wonders for any ice queens or ghosts out there, while a coloured option like blue or purple applied through netting can transform you into a mermaid or alien.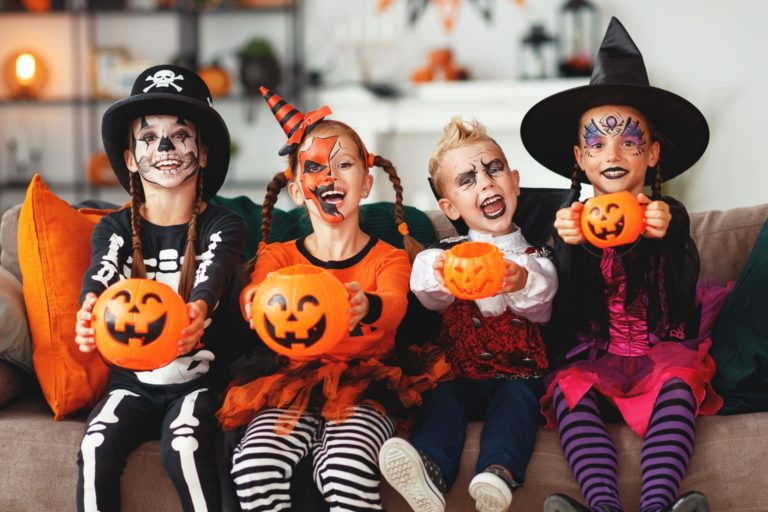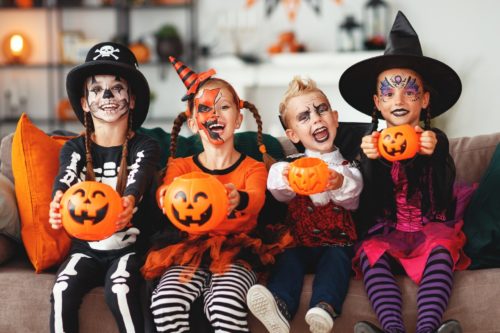 Keep your Halloween Home Looking BoOOotiful
When the party's over, you'll likely find a mess left behind. Don't worry; Rug Doctor is on hand to make the clean-up less scary! Whether someone's spilt chocolate, pumpkin juice or a cocktail, Oxy Power Stain Remover can get rid of it before you can say, "Halloween!" If you spot ink stains on the carpet from the kids' decoration-making, just spray on some High Foot Traffic Cleaner to get things back to normal. It even works on food grease, so you can remove any marks left by those sausage mummies.
Dressing up can be a messy affair too, but we've got something for that! Our Spot and Stain Remover is perfect for cleaning up makeup and paint, while our Spot and Stain Remover Wipes can get rid of any bloody evidence – fake blood, that is!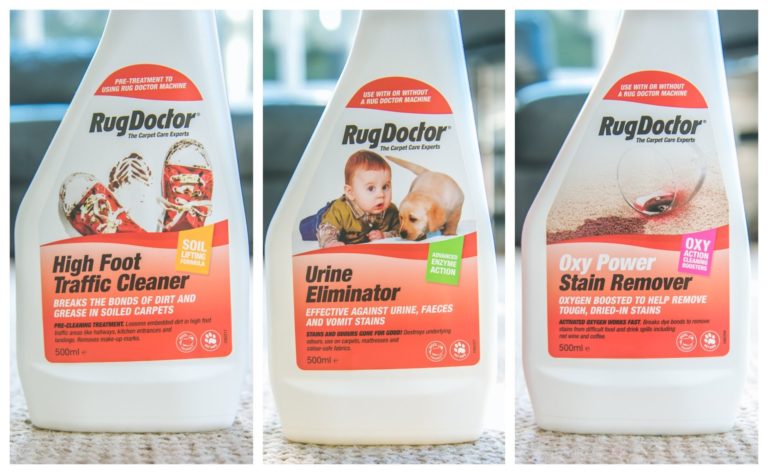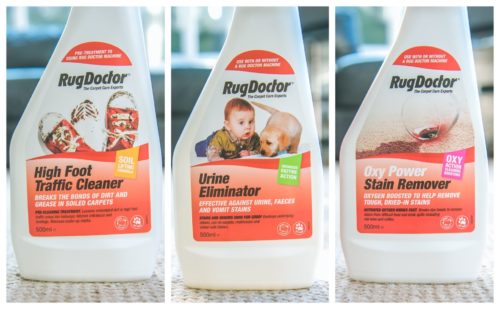 Want to clean more than a couple of stains? Why not hire one of our carpet cleaners and refresh throughout your home? You won't believe the results, and then your carpets will be ready for the next party: Christmas!
Halloween parties are all about having fun and embracing the spooky season. No-one wants to worry about coming up with last-minute ideas or struggling to clean up afterwards – thanks to our tips and products, you don't have to!