I'm sure you have all heard of Rug Doctor before. You know the one, that professional cleaning machine that you typically rent from their website or supermarkets? Well, did you also know that Rug Doctor also has its own product line of independent Rug Doctor cleaning solutions? If not, read on to see some of the stains I've managed to eliminate over the past few days… I've rented a Rug Doctor on several occasions before. Typically it's been at either points when I need the house to look its best. Moments such as when the house is going on the market. More usually it's the stains get too much for us to just walk on by and pretend they aren't there. Sure I've tried interim measures beforehand. Things like buying all the cleaning products from the supermarket.Sadly most of the time, other than smelling nice, the carpet or upholstery usually mostly looks the same as before.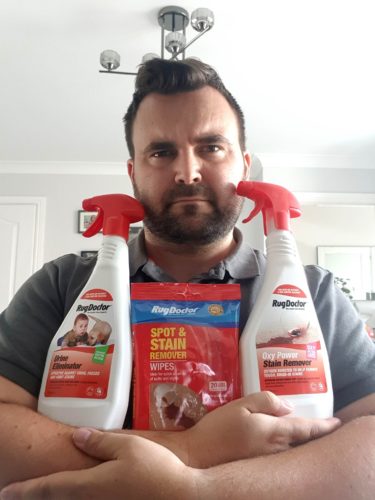 When Rug Doctor asked me to test out their products on Red Wine stains I immediately asked them if they were, or thought I was, crazy…! Mrs F would absolutely go all wolverine on me if I even considered tipping Red Wine on the carpet. I did say I had plenty of other stains which I'd be more than happy to take up the gauntlet on. I'm talking dried pen ink on our new carpet, multiple unidentified stains on my car seats. Many of the stains have been there (unable to remove) since I purchased it. We have recently had a new mattress and I wanted to donate our old one as it's only a year old but it had some sleep drool stains. Also having two children under the age of 8 means that sadly spilt blackcurrant is also a regular danger.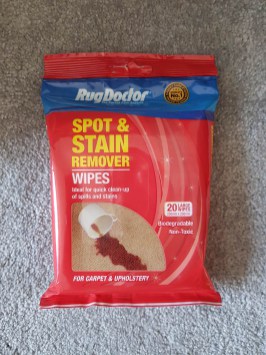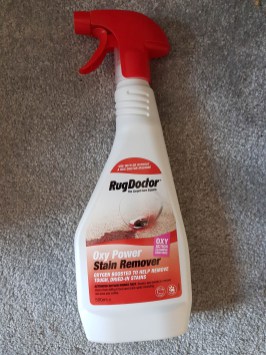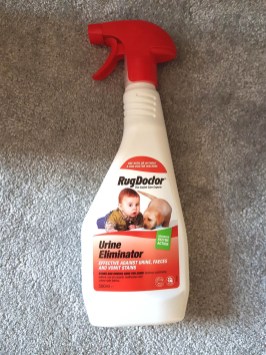 I tried out two of Rug Doctors products with a third in the bag for when (and it will be a when) it happens, these were:
About the products
Rug Doctor Oxy Power Stain Remover
Coming in a 500ml spray, its core claim is that using its Oxygenated formula. By breaking down Dye Bonds, the stuff which colours the stain. It breaks down to allow blotting of the stain out of the carpets or upholstery. A couple of sprays on the stain and a short wait of a couple of minutes you'll instantly notice a visual difference. Following the wait you can then blot out the remaining stain and enjoy a stain free zone.
Rug Doctor Spot and Stain Remover Wipes
This pack of 20 wipes will become your new best friends. These smell gorgeous but make a quick impact on any freshly spilled stains such as tea, squash or even red wine. Measuring a decent 25cm x 20cm and a thick enough quality not to break up, these wipes will conquer any stain quickly.
Rug Doctor Urine Eliminator
Despite its title, this doesn't just deal with urine, it is also used for faeces and vomit. It both eliminates stains as well as the equally noticeable odour. We've all had our little ones vomit in their car seat and despite a good clean, you still get those occasional whiffs. Well this product will eliminate both stains and odours. Again, coming in a 500ml spray bottle, this is pet friendly so can be used without worry. It can also be used on mattresses. This one works without any blotting needed, just spray generously and leave to dry out.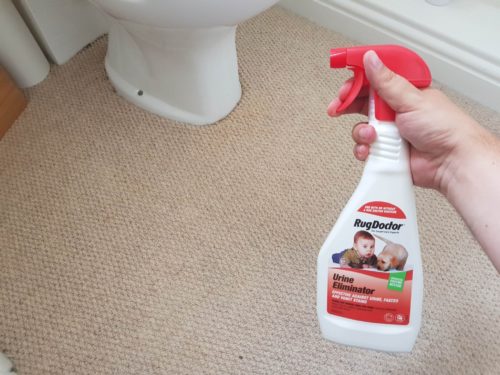 I made a video of my experiences around the house… To say I was amazed is an understatement. Both the Rug Doctor Oxy Stain Remover and Spot and Stain Remover Wipes worked incredibly well on everything I threw at them. I've never experienced such instant results using a stain remover before now. From now on I will always look out for Rug Doctor which makes complete sense. If we always turn to the main Rug Doctor carpet cleaner to do the business, then why wouldn't the Rug Doctor cleaning solutions have the same effect too? Do you have stains you are struggling to remove? Have you tried out Rug Doctor's cleaning solutions? Find out more about the
Rug Doctor Cleaning Solutions
and to find your nearest stockist check out the
Rug Doctor Store Finder
links now. By Guest Blogger,
Jim (One Dad One Blog)