I've always been a very house proud person.
So when I had kids I had every intention of attempting to keep my home in the order to which I had become accustomed.
How long did that intention last? Let's just say when it came to choosing between running the vacuum cleaner around or getting more sleep, I chose the latter.
Now that we're out of the baby days, and we're all getting a bit more sleep (just enough to keep us all sane during the day), I can turn some of my attention back to the house.
But I don't have time to be a full-on Monica from Friends and scrub the house from top to bottom every day. Nope, I have to settle for just about clean enough.
However when it comes to stains and marks on the carpet (which is beige in our house), my inner Monica puts her foot down.
I can't stand seeing mud, paint or worse smeared on the floor – it's just an absolute no-no for me. Something even lack of sleep cannot make me ignore.
So when I was sent some Rug Doctor cleaning products to try out, along with a Rug Doctor Portable Spot Cleaner, I hoped this would satisfy my inner Monica.
Let me give you a rundown of what I've been trying out and my thoughts, plus don't forget to check out my vlog to see the stains I've been erasing thanks to these handy products.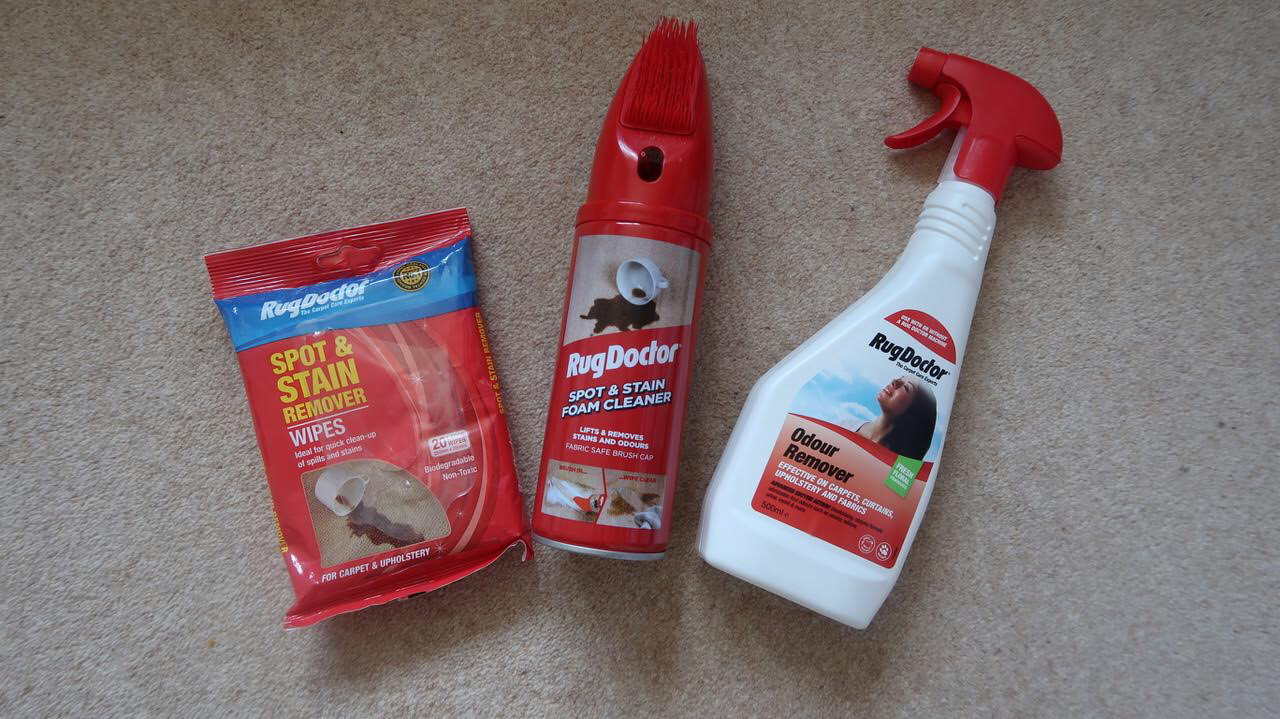 I use baby wipes to clean a lot of my house, including stains in the carpet. The trouble is they're just not that efficient at getting out tricky marks – they're for wiping bottoms after all!
These wipes are now an essential item in my house – they have all the power of a cleaning spray in a handy little wipe. I've used them to tackle mud, pen, paint and milk on my carpets and the marks have come off in seconds.
This is a fabulous all-in-one product. The bristles on the can are firm but not too harsh, so they won't damage your carpet.
It's a great solution for getting out heavy stains when you're in a hurry.
Children and pets are of course adorable, but they bring with them various smells that we would rather not have in our homes!
One of the inevitable things of having kids is that eventually they will vomit on your carpet.
While you can get the stain out, the smell often lingers and it is not pleasant!
This spray tackles those smells quickly and easily. Simply spray on the area, place a damp cloth or towel over the spray to blot the moisture and it's done! No need to scrub!
I love how simple this is to use and it's saved my home from a few rather unpleasant lingering stinks.
Rug Doctor Portable Spot Cleaner
This nifty little carpet cleaner is delivered in one piece – no assembly required!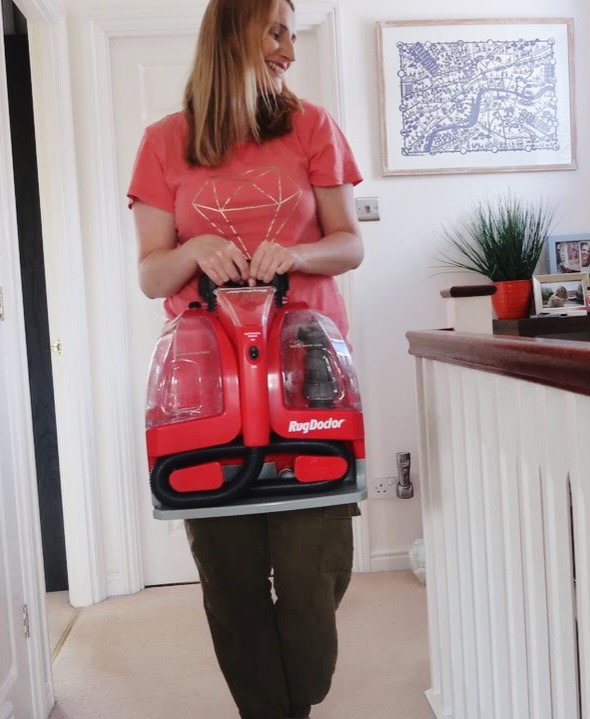 It's super easy to use and because of its compact size, it's great for all homes as when it comes to storage, it doesn't take up much space.
There's an extendable handle so you can take it from room to room without having to pick it up.
This is perfect for tackling those tricky stains that come hand in hand with having children in the house, this is quick to get going and has incredible suction power. See my video above to check out how it handled a tea stain.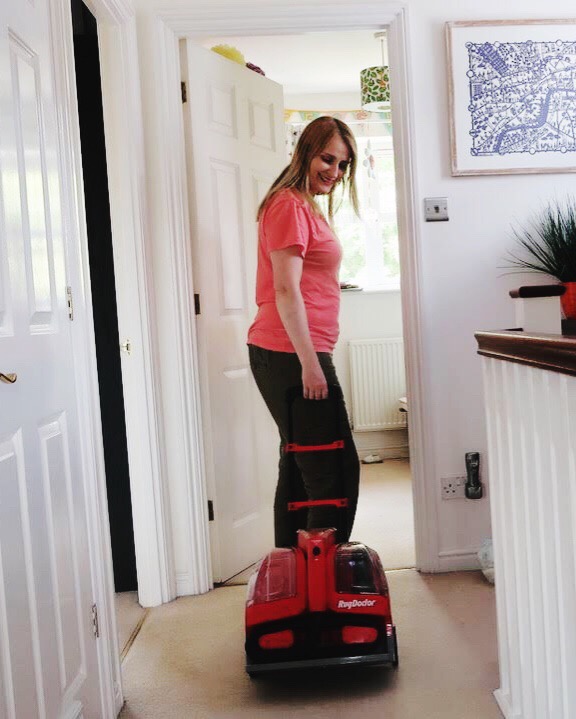 The powerful suction means that it gets to stains that have gone deep into your carpet, plus there is a motorised brush head for scrubbing out really tough stains. It left my carpets looking brand new!
You can check out a video of me unboxing the Spot Cleaner here
If you have a neat freak inside of you desperate to keep your home clean, these are my top tips for removing stains:
1. Have the right products
Being prepared is by far the best thing you can do. If you are particularly attached to your carpets and beautiful cream sofa, then have a selection of products that can suit you and your home.
For me it's quick and easy products, such as the Rug Doctor wipes, that are particularly essential. However the Portable Spot Cleaner means I can tackle heavily stained areas at the drop of a hat (or cup of tea).
2. Always read the instructions
Test the product on a discreet part of your stained fabric to avoid permanently marking it.
Read the instructions carefully as each product will be a bit different.
3. Tackle it asap
Don't delay, when you've spilled coffee or whatever else onto your carpet you need to get to work immediately. You have a far better chance of removing stains on carpets if you hop to it straight away.
4. Avoid using hot water
Lukewarm is your best bet as hot water can set some stains. Hot water can also damage some delicate fabrics.
5. Rub the stain in a circular motion
Scrubbing at a stain on carpet with cloth or a brush can push it further down into the fibres. You can also push the mark out to other areas of the carpet. Try a gentle circular motion to lift it out instead.
I hope you found these tips useful and you will give some of the Rug Doctor products a try to see for yourself how fab they are. Your inner Monica will thank you for it!
By Guest Blogger, Vicky (The Mummy Bubble)