Recently, I was privileged enough to get sent Rug Doctor's Portable Spot Cleaner which was ideal as I love carpets on the floors, both in hot and cold months. Cleaning them can be a real pain especially when you have kids at home, but I love carpets. I remember back when my parents would travel all the way to Turkey or the Middle East to get real Persian, original and different carpets and we would be so proud of them.
In some countries, even these days people hang the carpets on the walls. I still have some photos from my childhood from our flat where we also had carpets on the walls. Crazy, right? Cleaning them was another story altogether, but let's talk about it some other time!
So I "blame" old traditions for loving carpets. Rug Doctor's Portable Spot Cleaner is ideal for homes with babies and toddlers. Over the years, I have been renting Rug Doctor's Wide Tracks but since I had my daughters, it has been really difficult to organise this due to lack of time.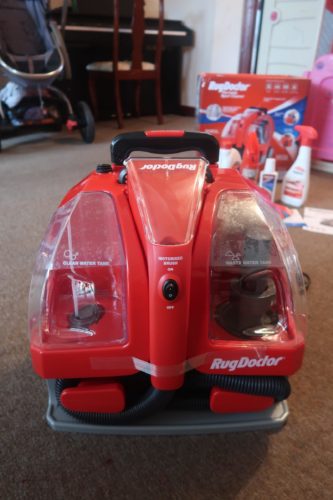 With kids around, every single day we get stains on carpets, sofas, beds – everywhere. It is really hard to keep everything clean every day, but the magic Portable Spot Cleaner is definitely a lifesaver and I will explain why.
What's In The Box?
First of all let me show you what exactly I have received:
Rug Doctor Portable Spot Cleaner
Oxy Spot Cleaner (for carpets & fabrics, 1lt.)
Oxy Power Stain Remover (Oxygen boosted to help remove tough, dried-in stains)
Spot & Stain Foam Cleaner (lifts & removes stains and odours)
Spot & Stain remover wipes (Ideal for quick clean-up of spills and stains)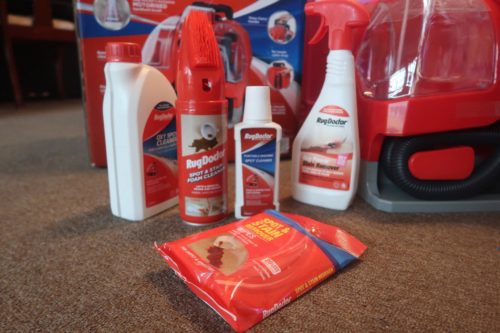 Start Cleaning
As soon as you open the box you have everything to start cleaning.
Remove the clean water tank by lifting it straight out of the machine.
Fill the tank with clean water until the level reaches the 'clean water' indicator.
Fill the clean water tank with Oxy Spot Cleaner until the solution reaches the 'spot cleaner' indicator. Refit the clean water tank cap. Reinsert the water tank into the machine.
Unwrap the power cord and plug into a socket.
Unwrap the flexible cleaning hose from the bottom of the machine.
Using the handle, squeeze the spray button to cover the cleaning area with solution.
Turn on the motorised brush using the switch on top of the brush.
Begin cleaning.
How Portable?
If you have any difficulties using the product, this how to use page tells you exactly how to use the spot cleaner. You just fill up the tank with some water and solution and you are ready to go. The suitcase-like handle makes it easy to carry from one room to another. It is also super easy to manoeuvre it around. From the photos, you can see that I had some stubborn marks on my carpets and rugs, both dark and light colours, but the Spot Cleaner made it simple to get rid of those.
Rug Doctor Portable Spot Cleaner retails for £154.99 and I honestly think that it is underpriced for what it does. I think that everyone should have one of this at home, especially when you have kids! It is the best investment you can make to save you time and money in the future. The quality and innovation of this product is honestly worth the price.
Here I have used the Rug Doctor's Spot & Stain Foam Cleaner, which I have applied on the sofa, brushed it in with its own brush and then cleaned it up with the towel after 2 hours.
Of course, it would take you ages if you wanted to clean the whole carpets in the house, but it is IDEAL for spot cleaning. It is made to ensure easier cleaning of the everyday spills as well as car thanks to a new hand-held brush, which is motorised to make cleaning easier.
Now, if you will excuse me, my daughters spilled another bottle of grape juice on my newly cleaned WHITE rug, so I have to go and spot clean it!