Hi everyone! I thought I'd make a blog post too to explain a bit more about the Rug Doctors products.
They were kind enough to give me a whole bunch of goodies to try and test out, so let's start with the Oxy spray. This spray I used on my mum's carpets, she had tough dried in stains from before she bought the house. She told me that she had tried loads of different products and nothing had been able to shift it. So with the Oxy spray, I covered the stain and left it for a good five minutes to work its magic. Soon after I rubbed it into the stain and it managed to lift it with no effort at all.
Next was the magic wipes (or Spot and Stain Remover Wipes as Rug Doctor called them). I spilt over a cup of coffee on the cream carpet and left it to soak it. Have to say I felt awful doing it, felt so wrong. After a few minutes, I blotted the coffee and as if by magic it managed to lift the coffee right before my eyes. I grabbed another wipe and rubbed in circles, and they were able to get rid of all the markings on the carpet. It was like new again!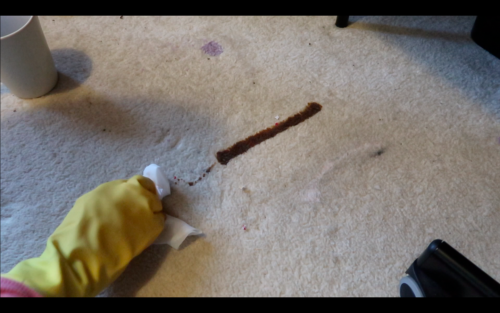 Then on to the Deep Clean Carpet Cleaner, it took seconds to set up and the instructions were easy to read. After filling the clean water tank with warm water and detergent, all I had to do was slot it back into place. The machine also has a deep clean spray that comes out from the back of the machine to work on those stubborn stains that won't shift. It's very clever and super easy to use. So after everything was ready to go all I have to do was walk. I also loved that on the front of the machine it has a clear screen so you can actually see the dirt being lifted and put into the tank, ready to be emptied.
Right away you could see a difference, and both of the rooms smelt really fresh. The carpets were wet but managed to dry by the next morning.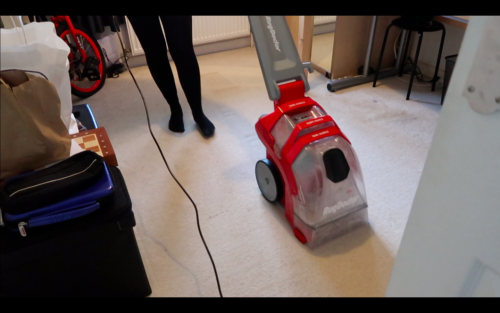 Soon after, I went home and tried out the Hand Tool on my stairs. It's an attachment for smaller areas such as car seats or sofas. I wanted to do the first two steps and see if I could see a difference in the ones above. I found it really easy to use and move about. The carpet on the stairs is almost black, so we couldn't see a change in the colour. However, it did make it stand up again where wear and tear had flattened it down over time. Again, it smelled really good and dried within a few hours.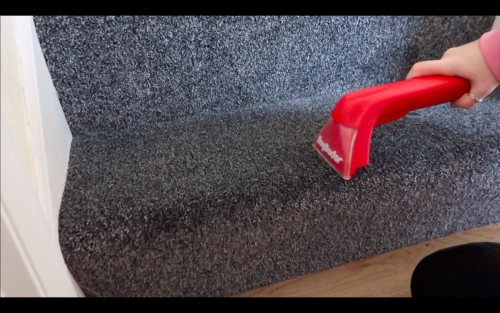 So, all in all, I would recommend the Rug Doctor products and machine. They work brilliantly and wish I had got them sooner.
Thank you very much Rug Doctor!