How to clean shag pile carpet
A
CLEANING SOLUTION

FOR SHAG PILE & OTHER HIGH PILE CARPETS




Shag pile is a thick and luxurious carpet but, because of its long pile, it can be difficult to keep clean. You can use a Rug Doctor but a different cleaning technique is required.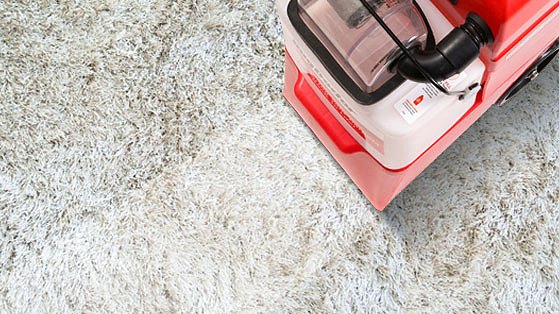 As food crumbs and other dirt and debris can make their way deep down into a shag pile/ very high pile carpet, regular vacuuming is never going to be enough. You need to deep clean shag pile/ very high pile with a Rug Doctor machine at least once a year. This will not only double the life of your shag pile & very high pile carpet but it will also deodorise and restore its natural beauty and softness.

Spots and stains are notoriously well known to be difficult to remove from shag pile/ very high pile carpet. Spots and stains that would appear to be easy to be removed from a cut pile are always more difficult to be removed from long shag pile or high pile carpet.

Any spill or stain on shag pile/ very high pile carpet should be tackled immediately following one of our matching Stain Removal Product Guides. Remove as much solid material as possible in a kitchen towel and then gently blot any remaining wetness. If it is a pet puddle or nappy overflow, use Rug Doctor Urine Eliminator. For a Red Wine stain, use Rug Doctor Red Stain Remover.
Shag pile / high pile carpet is too thick to use a carpet washer that has a roller brush. However, the Rug Doctor has a unique vibrating brush which oscillates backwards and forwards, and, unlike those cleaners that use roller brushes, will not get entangled in the pile.
You can clean shag pile carpeting with the Rug Doctor; however, care must be taken not to over-wet it. Shag pile holds much more moisture than cut pile carpets. Over-wetting can create drying problems, so you should make sure you limit your cleaning passes to only one. It's a good idea to go over shag pile carpeting a second time without depressing the spray switch to give it an extra vacuuming-only pass. Make sure you don't stay on an area of a shag pile carpet too long with the machine and make sure you are vacuuming up as much as, or close to the amount of, what you are putting into the carpet.
---
Prepare your carpets for cleaning
1.

Prepare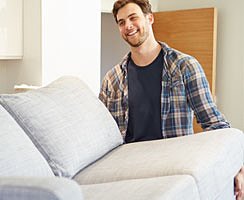 For an optimal clean,
remove furniture from the room
and ventilate room. Start cleaning from edge furthest away from door. If this is not possible, move furniture to the centre of the room.
2.

Vacuum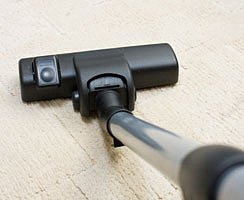 Use a vacuum cleaner to clean the area you are about to clean. This removes any surface dirt and allows the Rug Doctor to most efficiently get at the really deep down dust and dirt trapped in your carpet.
3.

Pre-treat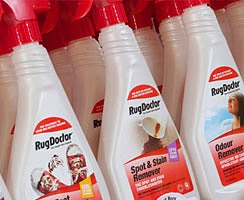 Pre-treat any special problem areas on your carpet with specific Rug Doctor products. Click here to see the
emergency stain guide
for which product is the correct pre-treatment solution for you.
Important Information : AVOID OVER-WETTING



Only pass the Rug Doctor over the area you want to clean once to avoid over-wetting the carpet.
If over-wetting occurs, your first step should be to try to remove as much moisture as possible by repeating

vacuum-only

passes.



Click to find out more >>
---
A step by step operation guide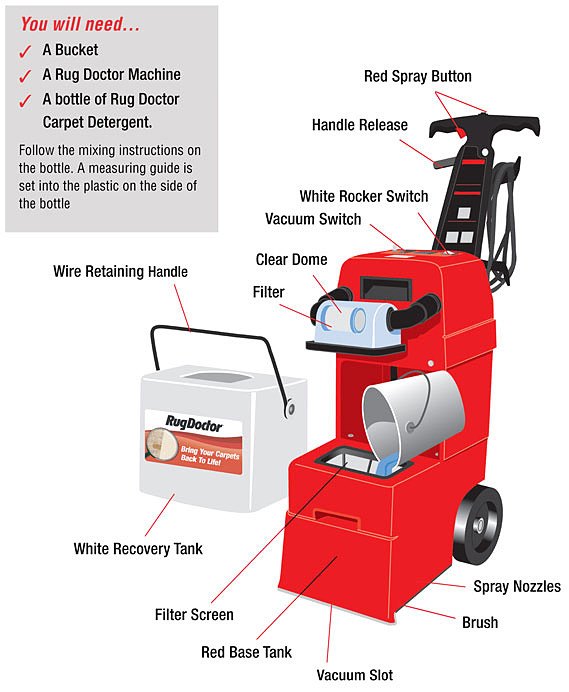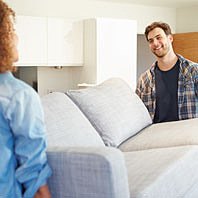 1.
Remove furniture and
vacuum the carpet
to pick up any surface dirt. If the furniture cannot be removed, bring it into the centre of the room so the perimeter can be cleaned first.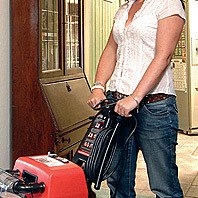 2.
Pull up
handle release
to suit your height. You only need to walk backwards when cleaning with a Rug Doctor as one-pass cleaning is normally all that is required. No forward motion is possible because of the high vacuum suction at the front of the machine.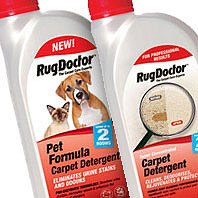 3.
Now we'll take you through the cleaning solution filling process using
Rug Doctor Carpet Detergent with SpotBlok or Rug Doctor Pet Formula Carpet Detergent
.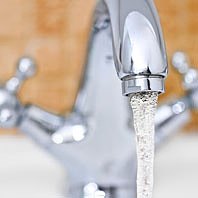 4.
Fill a clean household bucket with nine litres of hot tap water. Don't use water that is hot enough to burn or scald the skin. Only use luke warm water only for wool carpets.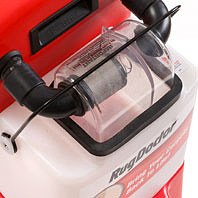 5.
Remove the
white recovery tank
by unclipping the wire retaining handle.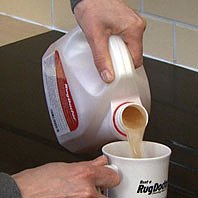 6.
Pour 150ml of Rug Doctor Carpet Detergent or Rug Doctor Pet Formula Detergent and 100ml of Rug Doctor Odour Remover directly into the bottom red base tank of the machine
. It's about half a coffee mug full. For Wide Track machines pour a coffee mug and a half (225ml) of Detergent.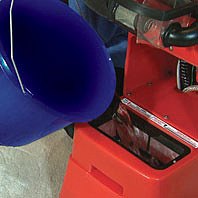 7.
Top up
the

red base tank

with the hot water until it reaches half way up the mesh filter.
Only use luke warm water for wool carpets. For heavily soiled carpets you may double the concentration.
Do not put detergent into the top white recovery tank
.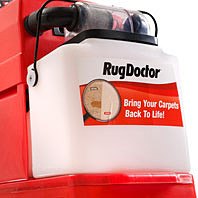 8.
Replace

white recovery tank.

Replace the retaining wire back over the

clear dome

- making sure it snaps shut for a vacuum tight fit.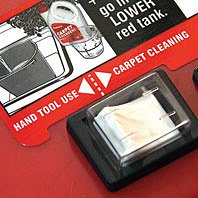 9.
Push the
white rocker switch
on top of the machine over to '
CARPET CLEANING
'. This is the one you want to use now.
Full instructions are also on the machine
.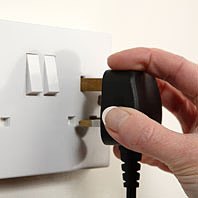 10.
Once the machine has
been set up, plug the machine
into a power socket. If an RCD
plug is fitted, set and test by
following the operating
instructions on the front of the
RCD.
Now you're ready to clean....
---
Lets start carpet cleaning...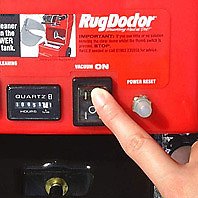 1.
Press
vacuum switch
to the
ON
position.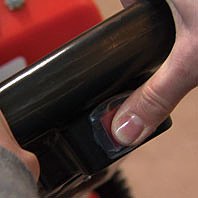 2.
Tilt machine back slightly so the brush is not touching the carpet and press the
red spray button
on the handle. Once you see the cleaning solution being sprayed out of the side of the machine return the front of machine to carpet and make a brisk pass in one direction.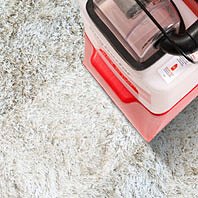 3.
Continue briskly pulling the machine backwards - pressing the
red spray button
all the time - and making a steady straight run back down the carpet.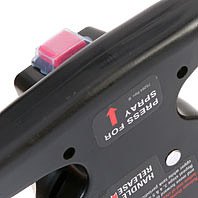 4.
About one foot before reaching the end of a run, release the
red spray button
but continue to pull the machine. This avoids wetting the last part of the carpet as you stop and prepare for the next run.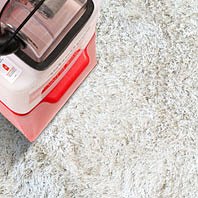 5.
Line the Rug Doctor so that it slightly overlaps the previous run - this ensures that every part of the carpet is cleaned.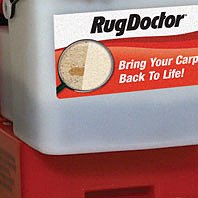 6.
The
white recovery tank
is almost translucent. So it's easy to see when it's nearly full of dirty water .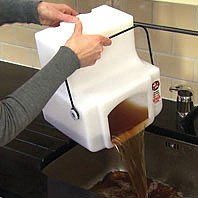 7.
To empty the
white recovery tank
, turn the machine off, pull back the
wire retaining handle
from over the
clear dome
and remove the tank.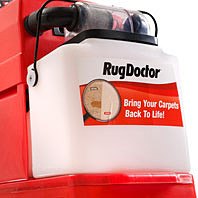 8.
When the job is done, simply
allow the carpet to dry properly.
Open the windows in the room
or turn on the heating, if possible.
Providing adequate ventilation is
essential to promote effective
drying of the carpet.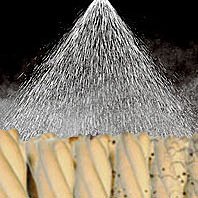 9.
NEVER over-wet a shag pile/ high pile carpet
in an effort to clean it.It is best to clean, then let the carpet dry completely and then repeat the process.
---
PLEASE NOTE
Shag pile and high pile carpets will absorb more water than a regular carpets. So, after cleaning, it is best to go over the carpet with the vacuum only switched on.
DO NOT DEPRESS THE SPRAY BUTTON on the handle while doing this as that will just wet the carpet further. Check to see if dirty solution is still being extracted by looking for liquid flowing through the clear dome on the top of the machine. Stop when you do not see any liquid flowing.
Now to speed up the drying process, allow for some air flow over the carpet by opening windows, using a fan or turning on your heating or air conditioning system in order to help your carpet dry.

Rug Doctor Odour Remover

will eliminate odours from any small amounts of residual dirt trapped in the deep pile.
---
Troubleshooting guide
If you are having any problems using your Rug Doctor please refer to our
Troubleshooting guide by clicking here
. If you are still experiencing problems please call our Consumer Support Specialists (Monday to Friday 8.30am to 5.30pm, Saturday 09.00am to 5.00pm, Sunday 10.00am to 4.00pm (excluding: New Years Day, Easter Sunday and Christmas Day)) on
01903 235558
. Click here for more information