How to clean around skirting boards, up stairs, upholstery, car and caravan interiors
USING THE HAND TOOL IS EASY WITH A RUG DOCTOR.
The hand tool is perfect for cleaning tight spaces, up stairs, around skirting boards, car interiors or other hard-to-reach areas. Simply follow these instructions to make the most of your Rug Doctor hand tool.

Watch the video above and you'll be admiring your freshly cleaned upholstery in no time.

---
Prepare your upholstery for cleaning
1.

Vacuum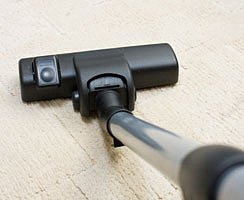 Use a normal dry vacuum cleaner's upholstery attachment or hand broom to
clear the fabric
you are about to clean. This helps keep the Rug Doctor system working efficiently by reducing excess dust and dirt.
2.

Be ready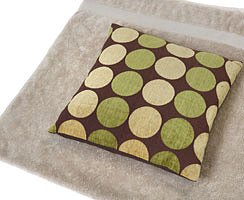 Lay some towels
on the ground for added ease in drying cushions after you clean them
3.

Connect the utility tool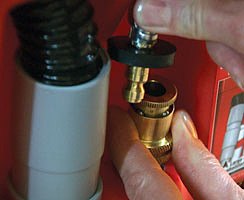 Disconnect the large vacuum hose on the Rug Doctor and
plug in the Utility Tool
to the top portion. (See full operations guide below).
Important Information



Do not use or place either the Rug Doctor machine or Rug Doctor cleaning products on: Silk, Haitian cotton, velour, brushed corduroy, leather, non-colourfast fabrics or upholstery fabric with cleaning codes S or X.
Only use luke warm water when cleaning wool, wool blends or delicate fabrics.

Always test for colorfastness by first cleaning a small, hidden area, then rub the test area with a white towel. If no colour is transferred then continue cleaning. Dry your cleaned cushions on sheets or towels laid out on the floor

---
A step by step operation guide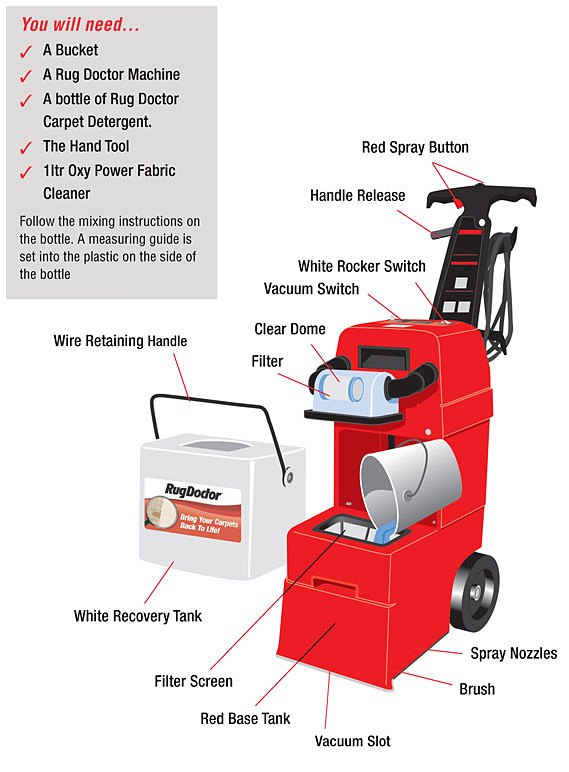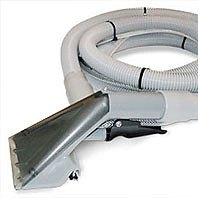 1.
The Rug Doctor comes with a hand tool for cleaning soft fabric furnishings, stairways, around skirting boards, etc. It's fitted with a 3.5m double hose, which attaches to the back of the machine.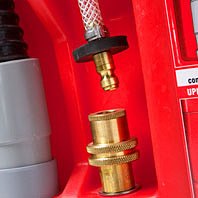 2.
First, unplug the clear braided hose by pulling down the ring on the brass quick release connector.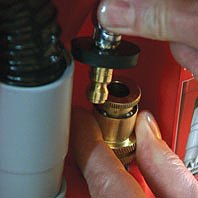 3.
Pull down the ring again until you can see the silver ball bearings, and insert the hand tool's clear braided hose until it clicks into place. Lightly tug the braided hose to ensure it is securely connected.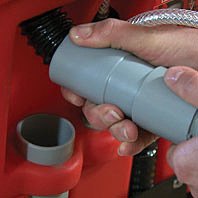 4.
Pull out the grey pipe attached to the black vacuum hose in the machine and push it into the end of the grey hand tool hose.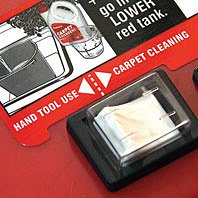 5.
Set white rocker switch on top of machine to 'Hand Tool'. Now it is ready to use.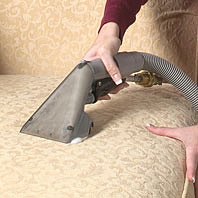 6.
Squeeze the hand grip to spray the cleaning solution on to the carpet. On stairs, move the hand tool backwards and forwards so that the brush underneath can agitate the carpet fibres to release the dirt.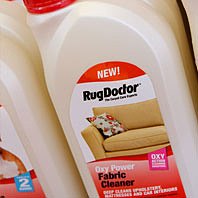 7.
NOTE

: When using the hand tool on soft furnishings, you need a different cleaning solution. Use Rug Doctor Upholstery Cleaner - for a specially formulated gentle cleaning action
.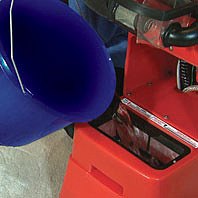 8.
Add 500ml (half a bottle) to eight litres of warm water and pour the cleaning solution into the red base tank.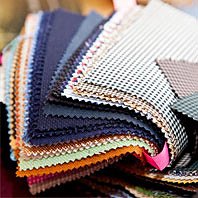 10.
Before using the hand tool, always test the fabric you want to clean for colour fastness.
---
Troubleshooting guide
If you are having any problems using your Rug Doctor please refer to our
Troubleshooting guide by clicking here
. If you are still experiencing problems please call our Consumer Support Specialists (Monday to Friday 8.30am to 5.30pm, Saturday 09.00am to 5.00pm, Sunday 10.00am to 4.00pm (excluding: New Years Day, Easter Sunday and Christmas Day)) on
01903 235558
.