Milk is great for your health, but not so good for your carpets. If you or your kids have a spill, let us take care of the cleaning up.
Enjoy easy, problem-free cleaning with Rug Doctor's Urine Eliminator spray. Milk often leaves behind a smell as well as a stain, but this product can remove both at once. It does its best work on natural stains, making it ideal if you've got little ones running around. It can also be used on upholstery, so you're covered if the spill is on the sofa or your favourite cushions. You won't need to worry about accidents in the home – from blood stains to pet puddles – if you've got the Urine Eliminator.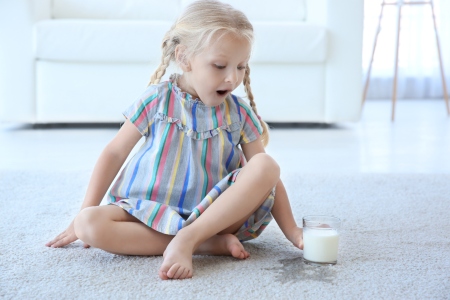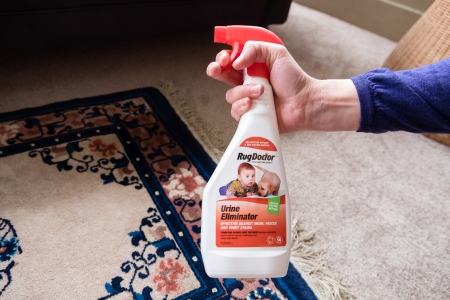 But how do you make the most of this product? Find out with our simple steps:
Start treating the stain as soon as possible, for maximum effectiveness.
Protect your skin by putting on gloves and soak up any excess liquid with a cloth.
Give the trigger bottle a good shake, then turn the nozzle to the ON position.
Spray Urine Eliminator onto the affected area. Make sure it is heavily wetted, so the product can penetrate the carpet backing and remove every trace of the stain. Avoid blotting.
Rest a damp, colour safe towel over the carpet and allow the area to dry naturally – leaving it overnight is best. A second application may be needed if the stain is especially tough.
Turn the nozzle back to the OFF position.
Once dry, try dampening with water and blotting if you still notice discolouration.
Did you know that you also have the option to use Urine Eliminator as a pre-treatment before cleaning with a Rug Doctor machine? Discover how you can take years off of your carpets today.
Focus more on spending time with your loved ones and less on accidents at home. We'll take care of your milk stains with our incredible range of products.