One false move and you've spilled your red wine. Whether it's on your carpet or sofa, Rug Doctor has got you covered.
Our Oxy Power Stain Remover is a Which? Best Buy Carpet Stain Remover, so you can be confident in its high-quality action. But what is oxy power and how does it work? Its clever technology targets the chemical bonds within the stain, and makes you forget it was ever there in the first place! Despite its powerful ingredients, it won't damage your carpet's fibres and is even wool-friendly.
So, how can you use this on red wine stains? Check out our video guide:
Or, simply follow these steps: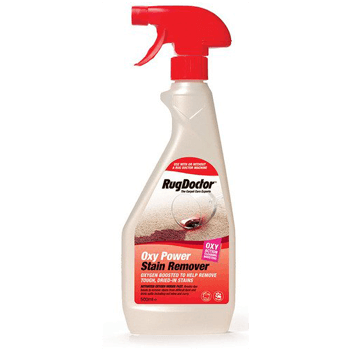 Check your material type and test the area for colourfastness.
Treat the stain as soon as possible after you spill – wet stains are easier to remove and they help our products to work more effectively!
Put on gloves to protect your skin.
Shake the bottle and turn the nozzle to the ON position.
Remove excess liquid with a paper towel or absorbent cloth.
Spray the Oxy Power Stain Remover liberally over the stain – don't be shy! Then, leave it for 3-5 minutes.
Gently blot the affected area with a cloth or sponge. Make sure it is damp, clean and colour safe to avoid any transfer. Press firmly and work towards the centre of the stain from the edge.
If your stain is particularly heavy, apply more than once. Let the area dry between applications and once finished, return the nozzle to the OFF position.
You can also use our popular Spot and Stain Remover to remove red wine stains. It is a versatile solution for everyday emergencies. You can even combine it with a Rug Doctor machine for award-winning cleaning.
We know that a red wine spill at a party, gathering or even a regular evening in can be a nightmare. So, make sure you give your home the best care with our stress-saving products.