Oxy Power Stain Remover - 500ml
Rug Doctor Oxy Power Stain Remover is a Which? Best Buy and lifts the toughest spots and stains from carpets, fabrics and upholstery including red wine, juices, curry and other stubborn stains in the home and in vehicles.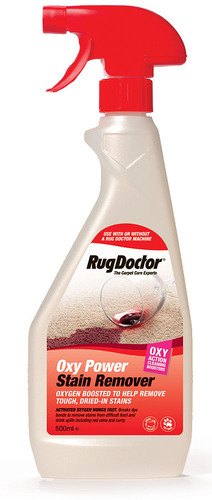 Price:
£4.99
ADD TO BASKET
Product Rating:
Not yet rated
Rug Doctor Oxy Power Stain Remover disrupts the chemical bonds of the stains, rendering them colourless thanks to its unique oxy cleaning action.
Rug Doctor Oxy Power Stain Remover works on dried-in stains.
Oxy Power has the cleaning power of bleach - but without the bleaching 'effects'.

The Oxy Power spray encapsulates stains on carpets and fabrics and renders them colourless by the non-chlorine bleaching action of our oxy action cleaning boosters.

Powerful Oxy formula quickly attacks even dried-in or difficult food and drink stains like red wine, chocolate, crayon, oil, grease, ink, curry and more!

Can be used on carpets, fabrics, upholstery and surfaces such as ceramic, plastic, wood, metal, tile and on painted walls. .
It is Wool and Pet Safe.
Directions:
For best results treat stain immediately. The use of household gloves is recommended. Do not mix withchlorine based bleaching products. Use only in well ventilated areas.


Shake bottle well and turn nozzle to the ON position.

Remove any solids or excess liquids with aclean, absorbent cloth or paper towel.

Generously spray Oxy Power Stain Remover evenly over theaffected area and let stand for 3 to 5 minutes maximum. Do not overwet the area.

Blot away staingently with a clean, damp, colour safe sponge or cloth - working from the edge of the stain towards thecentre - pressing deep into the stain. Repeat as necessary. Heavy stains may require more than oneapplication. Allow carpet to dry thoroughly between applications. Wash hands after use.
AFTER USE RETURN THE NOZZLE TO THE OFF POSITION AND STORE TRIGGER BOTTLE UPRIGHT.
---
DOWNLOAD DATA SHEET
CAUTION:

Keep out of reach of children. Do not breath spray. Use only in ventilated areas. Wash hands after use. Avoid contact with eyes.
In cases of ingestion, wash out the mouth with water. Obtain medical help. Do not induce vomiting unless advised by medical personnel. In cases of skin contact, wash the skin with soap and water to remove any incidental contamination. In cases of eye contact, wash out the eye thoroughly with plenty of clean water.In cases of inhalation, remove from exposure into fresh air. SEEK MEDICAL ATTENTION IF IRRITATION PERSISTS.
NOT FOR USE BY CHILDREN.
---
Contains
less than 5% oxygen-based bleaching agents, anionic surfactants, non-ionic surfactants, polycarboxylates.
---
Product Reviews
No reviews yet, be the first to review this product...
---
Other Rug Doctor products