Rug Doctor Deep Cleaner

...
the Next Generation In Clean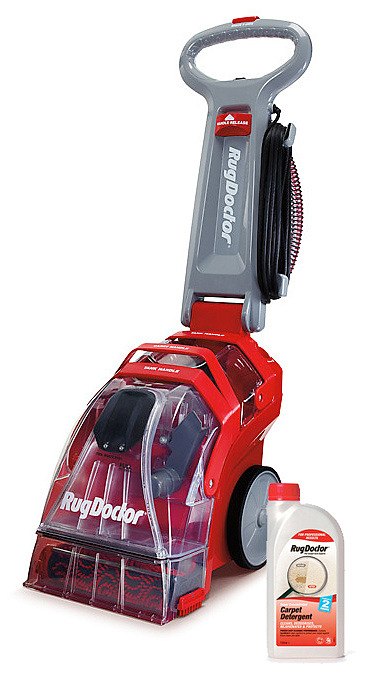 FREE
1 litre bottle of Rug Doctor
Carpet Detergent
worth £9.99
The cleaning power of a Rug Doctor in your home for deep cleaning your carpets and upholstery at any time.
The Rug Doctor Deep Carpet Cleaner comes with innovative design. It features that specific carpet cleaning needs of consumers. Rug Doctor are a name you can trust in carpet care!
ONLY £299.99
FREE delivery

FREE

Carpet Detergent worth £9.99
RUG DOCTOR Deep Carpet Cleaner Features:
Remove dirt and water
- Get a faster carpet drying time with our strong suction powered carpet cleaner.
Deep clean on each carpet fibre
- Our innovative dual cross action brush technology cleans each fibre, grooms and polishes the carpet - all in one pass.
Clean dirtier carpets easily
- Get an extra boost to start the stain removal process with our Super Boost spray, especially useful in high foot traffic areas.
Clean your stairs, upholstery and mattresses too
- With our convenient removable tool caddy. Our hand tool even cleans fabric vehicle or caravan interiors.
Start cleaning straight out of the box!
- The Rug Doctor Deep Carpet Cleaner requires no assembly and contains everything you need to get started.
GOLD Seal Of Approval for outstanding cleaning performance
from the Carpet and Rug Institute.
Unique Agitating Brush
Deep down cleans the carpet fibres
Grooming
brush
Grooms and polishes the carpet fibre
Enhanced
suction
Strong Suction Power - quickly removes dirt and water for enhanced carpet drying time.
Super boost
spray
for tough stains and high traffic areas
"Have always hired a rug doctor to clean my carpets, when I saw this hoped it would be as good as the industrial one. I have to say it is just as good, brings carpets up like new. Would highly recommend to anyone. Absolutely brilliant machine. Wow what a magic machine. It works wonders. My carpet was in the bad state as I have a two year old baby. Rug Doctor worked wonders my carpet is almost new again. I have a piece of mind now that I own a rug doctor. 110% impressed with delivery, with the packaging, and with the price. When you tell people that you have bought a rug doctor they frown 'Oh that will be expensive', not at all ...brilliant price. No complaints in any way on this product! Pros: very easy to use... and instructions very clear"

---
---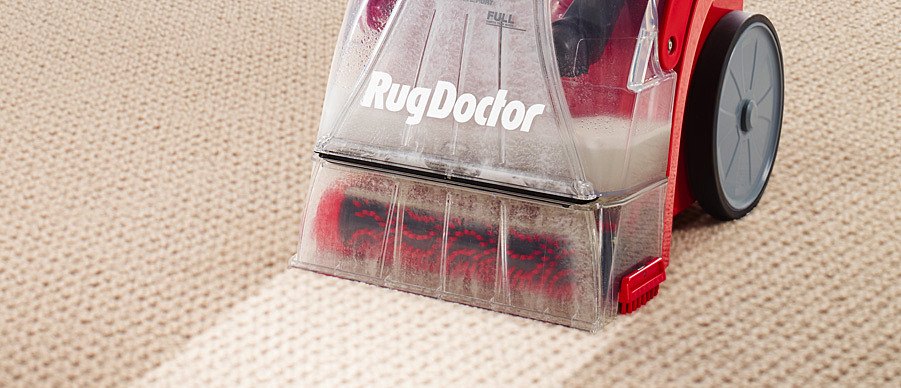 The only upright deep carpet cleaner with dual cross action brushes, designed for quick and easy cleaning - any time - anywhere...
Dual cross action brushes for deep down cleaning with a super boost spray for cleaning high traffic areas and tough stains
.
---
Rug Doctor Deep Carpet Cleaning System
Awarded Gold

!
The Carpet & Rug Intitute (CRI) Seal of Approval programs tests the effectiveness of deep cleaning extractors and systems.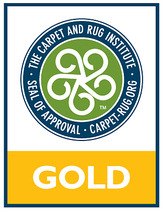 Only the best pass the test :
Soil removal
- CRI uses NASA-enhanced x-ray fluorescence technology to measure the precise amount of soil removed from the carpet. The soil removal efficiency is rated.
Water removal
- The extractor must remove most of the moisture resulting from a wet cleaning process.
Fibre surface retention
- The product must not harm the carpet pile.
---
---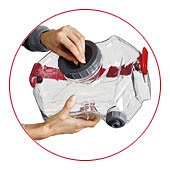 Easy Open
Tank Cap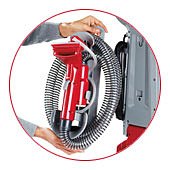 Removable Tool Caddy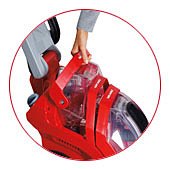 'Simple Lift' clean and dirty water tanks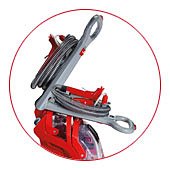 Collapsible Handle for compact storage

---
---
Deep Carpet Cleaner Specification
Model Number



93170


Power:



1300 watts


Dimension

(HxWxD)

:

110.5cm x 31.7cm
x 47.7cm

IPX 4 rated for outdoor use:

Yes

Weight:



12.5kg

Mains Cable length:



8.5m

Hose length



2.4m

Clean tank capacity:



3.8 Litres

Dirty Water Tank Capacity:

4.2 Litres

Cleaning Path:

30.5cm

Removable Tool Caddy:

Yes

Quick release mains cable wrap:

Yes
'Easy lift out' clean and dirty
water tanks:
Yes
'Easy open' clean and waste
water tanks:
Yes

Guarantee:

2 Years
Included: Rug Doctor Carpet
Detergent bottle
Trial 266ml size