The Next Generation In Clean Is Now Available To Order...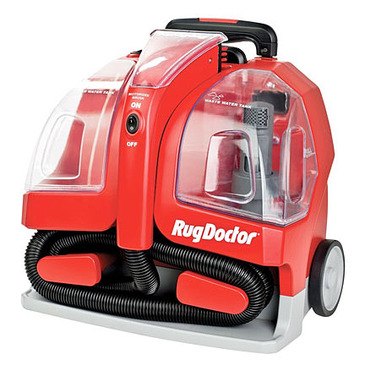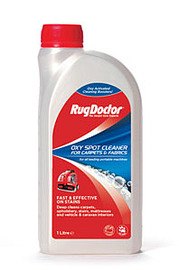 FREE
1 litre bottle of Rug Doctor
Oxy Spot Cleaner
worth £12.99
Order your Rug Doctor Portable Spot Cleaner now - for delivery within 7 days - and get:



FREE 1 litre bottle of Rug Doctor Oxy Spot Cleaner for use in the machine worth £12.99

PLUS Two Year Guarantee
PLUS Free Delivery.
RUG DOCTOR - The Next Generation Clean.
x2 Suction

*
compared to leading portable carpet cleaners
The ONLY Portable Spot Cleaner
with a handheld motorised brush for deep down cleaning
No more carrying
. Comes with wheels and a new retractable handle that allows you to effortlessly wheel the machine to the stain... and back! Size of machine allows easy storage.Ideal
IPX4 Splashproof Rated For Outdoor Use In Cars, Caravans and Boats
Ideal For Families and Pet Owners!
Just
£154.99
(Inc Vat)
---
---
x2
suction
means deeper stain extraction and faster drying times
Handheld motorised brush
for a deep down clean of stubborn stains
---
---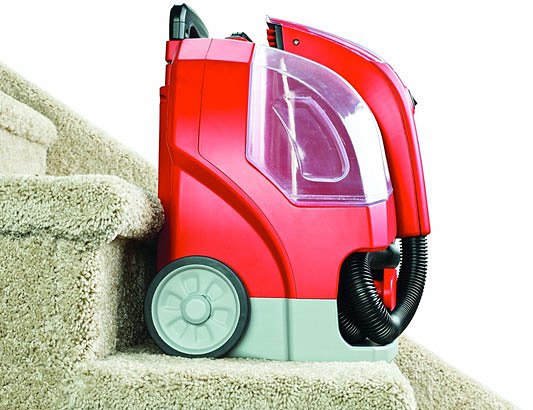 Designed to fit safely and neatly on stairs with carpet friendly wheels and a retractable handles for extra manoeuvrability.
---

Easy to use retractable carry handle


Fast and Simple removable tanks each side


Rug Doctor's exclusive motorised handheld brush

---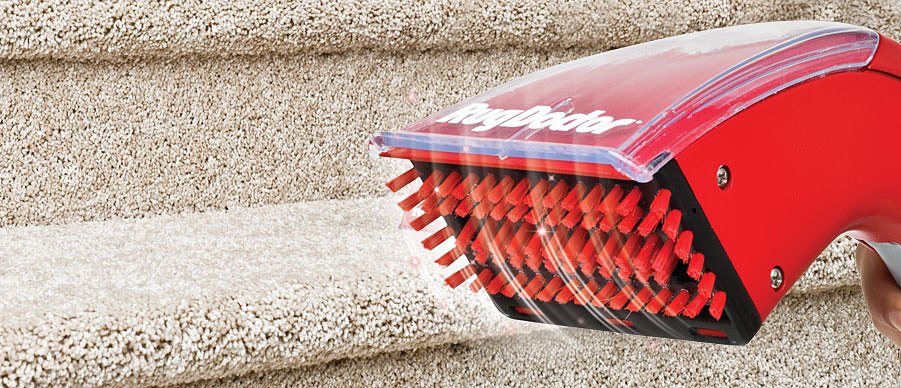 Designed for quick and easy clean-up of accidental food and drink spills, pet puddles, nappy overflows... anytime... anywhere in your home or in your vehicle
"Super happy with this purchase. I've got two small dogs, and they have had some issues dealing with my new (white!) carpet. The most important thing is to get to accidents quickly,before they have a chance to soak into the fibers and dry. I used to sponge the mess up with paper towels and shampoo later. That would reduce the level of staining. This is much much better, resulting in no stain at all.I will say that this product leaves little to be desired. Overall build quality is very good. The two water containers snap into place and don't leak. The hose stores neatly inside the unit. Carrying handle is solid. Unit is solid but light enough to carry easily. Suction is good. Spray is ample. Hand piece is solid and well built"

"I have a dog and our hallway carpet was looking very drab - looks brilliant now. have also used it on the stairs carpet and interior of my car. Very happy with this purchase. We had rented one of the Rug Doctor's carpet cleaners before and had always been really happy with the results so seeing this spot cleaner was available to buy at a reasonable price, we decided to take the plunge especially as we had just treated ourselves to a new living room carpet. This has been a wise move as this machine has already been called into action a number of times. The carpet still looks like new thanks to this little machine! All in all really happy with our purchase and would 100% recommend to anyone especially if they have small children or a pet, also dead handy for giving the car interior a really good clean"

---
---
Portable Spot Cleaner Specification
Model Number



93306

Power:



1100 watts


Dimension

(HxWxD)

:

40cm x 41cm x 28cm
IPX 4 rated for outdoor use:

Yes

Weight:



8.2kg

Cord length:



4.6m

Hose length



1.7m

Clean tank capacity:



1.9 Litres

Retractable handles & wheels:

Yes
Cleaning path



11.5 cm


Motorised handle brush:



Yes


Quick release mains cable wrap

:

Yes
Suction compared to other portables:

Twice suction


Easy pour waste water spout:



Yes

Guarantee:



2 Years


Included Spot Cleaner bottle



Trial 236ml size


1 Litre Oxy Spot Cleaner available:



Yes