Oxy Power Fabric Cleaner - 1ltr
Oxygen boosted to clean and revitalise fabrics and upholstery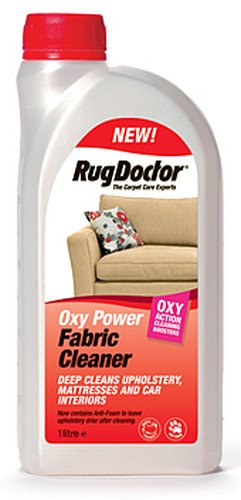 Price:
£12.99
ADD TO BASKET
Product Rating:
Not yet rated
This new upholstery and fabric cleaner formula minimises foaming, meaning you no longer have to add Rug Doctor Anti-foam to the recovery tank, reducing your carbon footprint by using only one bottle and offering better value!
This new Oxygen boosted formulation is also double concentrated to give twice the cleaning coverage.

This dedicated fabric cleaning formula does not over-saturate fabrics unlike the multi-use carpet and upholstery detergents of some other brands.

Rug Doctor Oxy Power Fabric Cleaner is colour safe and eliminates stains and odours without leaving the fabric over-wetted.

This product has been especially formulated to be used in a Rug Doctor Machine with the Hand Tool attachment fitted and is safe to use in other leading machines.

It does not leave sticky residue and is Wool and Pet Safe.
Directions:
Shake bottle gently before using. Apply as directed. Do not use water hot enough to scald.
Use luke warm water on wool.
---
DOWNLOAD DATA SHEET
Contains
less than 5% Polycarboxylates, non-ionic surfactants, oxygen-based bleaching agents and anionic surfactants. Contains a perfume.
---
CAUTION:

Keep out of reach of children. Use only as directed, wash hands after use. Avoid contact with eyes.
---
Product Reviews
No reviews yet, be the first to review this product...
---
Other Rug Doctor products