High Foot Traffic Cleaner - 500ml
High-traffic carpet areas attract tough, oily soil especially near kitchens hallways and doorways. Rug Doctor is a powerful pre-cleaning agent with a soil-lifting formula. Excellent for make-up removal.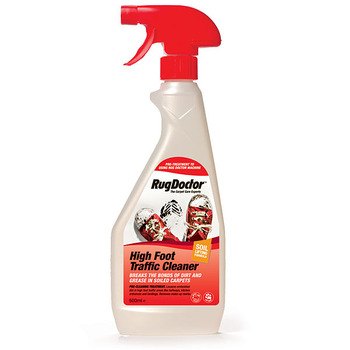 Price:
£4.99
ADD TO BASKET
Product Rating:
Not yet rated
Rug Doctor Traffic Lane Cleaner used as a pre-treatment to a Rug Doctor deep clean will remove:

Embedded Dirt, Grease, Soil, Tar, Varnish, Make-Up and Wood Stain.
Rug Doctor Traffic Lane Cleaner is a powerful pre-cleaning agent. It's specially formulated to break the bonds of embedded dirt and grease from areas of heavy foot traffic such as kitchens, hallways and doorways.
Used as a powerful pre-treatment to machine cleaning.

Check our stain guide for applications.

Helps lift and loosen ground in dirt and soiling.

Effective on greasy and oil based stains.

Available: 500ml trigger spray.
Directions:
Generously spray full strength on heavily-soiled areas. Let set for 5 to 10 minutes before cleaning with a Rug Doctor machine.
---
DOWNLOAD DATA SHEET
Contains <5% Phosphates, Nonionic surfactants, lemon fragrance. In case of eye contact - flush eyes with water for 15 minutes. If irritation persists, seek medical advice.
---
CAUTION:

Keep out of reach of children. Use only as directed, wash hands after use. Avoid contact with eyes.
---
Product Reviews
No reviews yet, be the first to review this product...
---
Other Rug Doctor products